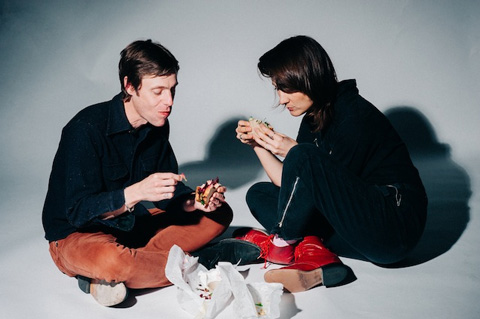 Gyanús. Nagyon gyanús. Sőt mi több, felettébb gyanús! Van ugye a kedvenc walesi énekesnőm, Cate Le Bon, aki 2012 óta nem bír hibázni, nem csoda, hogy előkelő helyre került a 2012-es és 2013-as listámon is az éppen aktuális lemeze. Na már most. Van neki egy pasija, akit úgy hívnak, hogy H. Hawkline. Hawkline szintén zenész, szuper psych-pop dalokat ír, idén például The Pink Of Condition címmel hozott ki egy rakatra valót. Cate zenekarának is a tagja, friss lemezének meg Cate volt a producere. Mi sem természetesebb, ha már járunk, akár együtt is zenélhetünk! Vagy fordítva! Igazából tök mindegy! NA DE! Cate gondolt egyet és átköltözött Walesből Los Angelesbe. Végül is, akár érthető lépésnek is tűnhet, hiszen ki ne akarna a nyálkás, ködös, nyomasztó Brit-szigetekről átpakolni a napfényes Kaliforniába, ugyebár. Ám néhány nappal ezelőtt teljesen átértékelődött bennem ez a húzás!
Történt ugyanis, hogy kikerült a VILÁGHÁLÓRA egy Drinks nevű formáció első kislemeze (Hermits On Holiday), amit Cate Le Bon alapított Tim Presleyvel karöltve. Tim Presley pedig nem más, mint maga White Fence egyszemélyben. Az a White Fence, amelyik a néhány éve gejzírként feltörő kaliforniai psych-garage-rock-akármi színtér egyik alap arca, aki közös lemezt adott ki például a szcéna másik fontos figurájával, Ty Segallal. H. Hawkline viszont nemcsak Cate zenekarában játszik, hanem a White Fence-ben is! És ki játszik még a White Fence élő felállásában? HÁT PERSZE, HOGY CATE!!!
ÍME AZ ÖRDÖGI TERV TEHÁT: Cate Le Bon szerelmes lett Timbe, de ezt nem akarta elárulni Hawkline-nak, inkább rávette, hogy költözzenek át az Államokba. Beállt White Fence mellé zenélni, de hogy ne legyen gyanús a szituáció, megkérte Timet, hogy vegyék már be a zenekarba Hawkline-t is, aki addig sem sejtett semmit, így meg pláne nem fog arra gondolni, hogy az ORRA ELŐTT csalják meg! Cate aztán bevitte a kegyelemdöfést: előáll Timmel közös duójával, a Drinksszel, amivel lemezt is adnak ki hamarosan! Szerintem meg igazából az van, hogy Tim és Hawkline is HOMOSZEXUÁLIS, első pillantásra egymásba szerettek, közösen átverték Cate-et, és majd egy óvatlan pillanatban letépik egymásról a ruhát a turnébuszban, Cate nagy megrökönyödésére!!!!!!!!! EZ FOG TÖRTÉNNI!!!!!