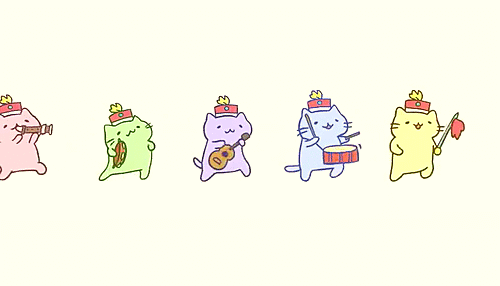 Ez a poszt olyan a Music Is My Radarnak, mint a Smile a Beach Boysnak. Mert legalább olyan sokáig készült. Na jó, ha 45 évig nem is, de 8 évig biztosan. Mert az alapötlet 2008-as. Mondjuk az a 8 év nem az írásával telt, egyáltalán nem, inkább csak a halogatásával. De most ennek a lélegzet visszafojtott várakozásnak vége! Itt van! Megszületett végre! Persze ehhez kellett yourcatwasdelicious, akivel annak idején kitaláltuk. Ő volt az, aki kész tények elé állított, mert nemrég meglepett azzal, hogy a rá eső videók jellemzését elküldte, így nem volt más választásom, mint megírni a maradékot. Szóval parancsoljatok, ezek itt a legkedvesebb állatos videóklipjeink!
Animal Collective - Who Could Win A Rabbit
Az Animal Collective tagjai felcsapták Aiszóposz állatmeséit A teknős és a nyúlnál, meghintették egy kis LSD-vel, és már el is készült ez a szuper videó, amit szégyenszemre azóta sem sikerült normális minőségben feltölteni az internetre. Nem vagyok benne egészen biztos, hogy az eredeti történetnek is ez a vége...
The Boy Least Likely To - Be Gentle With Me
Nagy igazságra világít rá a videó: lehet akármilyen kedves dalokat írni, de akkor is a világ legcukibb állatzenekarának frontemberévelnyulával fognak hazamenni a lányok. És ha már lányok: érdemes volt tíz évig halogatni ennek a cikknek a megírását, mert most már tudom, ki a főszereplő lány!
Weezer - Island In The Sun
Ha valamiért, hát ezért érdemes rocksztárnak lenni! A harcos állatvédők mindenképp hagyják ki a csimpánzdobálós részt, de a kisoroszlánokkal való labdázás ellen nekik sem lehet kifogásuk!
Grand Archives - Miniature Birds
Jól értem, hogy ez arról szól, hogy miután a zenekar felveszi az indokolatlanul rózsaszín teniszingbe öltöztetett, útonálló néger kisfiút,  aki amint egyedül marad a kocsiban, azonnal el is köti azt? THAT'S RACIST! Persze az vesse rá az első követ, aki nem ugyanezt tenné, ha tudná, hogy egy alpakafarm van a közelben!
Best Coast - Crazy For You
Micsoda, egy macskás videoklip, amiben macskák rendeznek egy videoklipet? Ez annyira meta, hogy az ELTE Filozófia szakán lehetne róla kurzust indítani, és csak pislognának a kis szabadbölcsészek, amikor értelmezniük kell!
Grandaddy - Nature Anthem
Szerintetek ennek a videónak a forgatása pontosan olyan szórakoztató volt, mint amennyire elképzeljük? Nem, ez még annál is sokkal, de sokkal szórakoztatóbb lehetett! Ha eddig nem akartatok állatjelmezben marhulni az erdőben, akkor a klip megtekintése után garantáltan megjön a kedvetek hozzá! 
Mercury Rev - In A Funny Way
Mégis mi lehet aranyosabb egy tam-tamozó vakondnál? És egy basszusgitározó borznál? Vagy egy gitározó mókusnál? Hát ez a klip, amiben ezeket így együtt, nagy adagban meg is kapjuk!
Real Estate - It's Real
Lehet még fokozni a fokozhatatlant? Hogyne lehetne! Kutya szülinapi csákóval a fején! Takaró alól előbújó kutya! És ami végképp beviszi a kegyelemdöfést: kutyák CSOKORNYAKKENDŐBEN!!!
Of Montreal - Wraith Pinned To The Mist
Még hogy az állatok csupa kedves és dédelgetni való teremtmények, haha, hát menten nevetnem kell! Pontosan olyan vérfagyasztóan lövik le/fejezik le/lökik jeges vízbe egymást, ahogy az emberek szokták! 
Kispál és a Borz - Disznók tánca
Legyen itt a műfaj egyik magyar képviselője is, ami ugyan nem hivatalos videó, de elég állatos és elég jópofa. Vajon a csápoló Barbie-k közül hány kötött ki koncert után a zenekar öltözőjében? :[