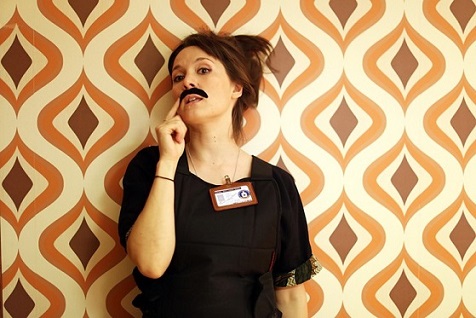 A blog facebook oldalán már beharangoztam egy sorozatot, amit ezennel elindítok. Ha minden jól megy, akkor mostantól minden hónapban lesz itt egy poszt azokról a friss dalokról, amiket az adott hónapban nagyon szerettem, úgyhogy nem is húzom az időt, jöjjenek a januári kedvenc számaim. 
Boosegumps – Happy
Veronai buszbaleset, saját házban kihűlő kisgyerek, Trump hátborzongató intézkedései – igazán rettenetesen indult 2017, és lehet, hogy csak ezeknek a fényében esik még jobban egy olyan szám, aminek a szövege nagyjából annyiból áll, hogy ''I'm so positive, I'm so happy". De igazából nem, mert amúgy sohasem eshet rosszul egy olyan dal, amiben ennyire fülbemászó az énekdallam, ennyire kedvesen énekelnek a lányok, ennyire megbabonázóan kotyog a dobgép és csilingel a szinti, és pláne, ha ennyire rövid, hiszen még a másfél percet is éppen, hogy meghaladja.  
Molly Burch – Try
Molly szereti a 60-as éveket, a Szerelmi Drámát, de legfőképpen azt, amikor ezt a kettőt keresztezheti, és mindehhez legtöbbször durcás képet vág. <333 A Please Be Mine című debütálás február közepén érkezik. 
The Proper Ornaments – Memories
Meg nem tudom mondani miért van az, hogy az elmúlt pár évben feltűnt, a 60-as éveket nyúló zenekarok 90%-a eléggé idegesít, miközben a Proper Ornaments meg nem. Már az is fura, hogy az előbbi mondatot leírtam, mert aki régebb óta követi a blogot (vagy esetleg személyesen ismer), az tudja, hogy én aztán kifejezetten elvárom egy kezdő zenekartól, hogy ha lehetséges, akkor lopja csak szét nyugodtan a 60-as éveket. A Proper Ornaments már a névválasztásával megmenekült az elviselhetetlen pózerkedés vádja alól, hiszen az egyik kedvenc Free Design számomról nevezték el magukat, és írtak már dalt egy másik kedvenc zenekaromról, a Stereolabról, meg hát tényleg vannak jó dalaik, például az új lemezükön is, amiről most ezt a lustán ténfergő, lassan KIBOMLÓ számot választottam, ami készülhetett volna akár 1969-ben is (van is egy ilyen című szám a lemezen), de ez már végképp teljesen lényegtelen. DE HOSSZÚ VOLT EZ A MONDAT!!!
H. Hawkline feat. Cate Le Bon – Last Thing On Your Mind
Most komolyan, segítsen már valaki!  Cate Le Bon (ő látható a nyitóképen) és H. Hawkline már nem járnak egymással? Cate most Tim Presley (White Fence) mellett keresi a Boldogságot? Vagy bejött az a verzió, amit már egyszer megírtam: Tim és Hawkline Cate-re fittyet hányva egy ágyban ÁLDOZ A HOMOSZEXUÁLIS SZERELEM OLTÁRÁN?! MEGANNYI FONTOS KÉRDÉS! Mindesetre H. Hawkline-nak új dala van, amiben – MICSODA MEGLEPI! – Cate Le Bon a közreműködő, mondjuk nem tudom mit csinál, mert az énekhangját nem hallom, lehet, hogy ő nyomkodja a szintit, vagy ahogy illiciumverum írta nekem: TÁNCOL! LOOOL
Cate Le Bon – Rock Pool
Cate-ről én már nagyjából mindent elmondtam (többször is), szóval most csak annyit kérdeznék, hogy ha már ennyi ideje Los Angelesben él, nem lehetne valahogy elintézni, hogy az amerikai állampolgárság megadása után Ő LEGYEN INKÁBB AZ USA ELNÖKE?????!!!!!!!!!!!!!!!
Strange Lot – Born
Ez a dal (NÓTA! TRACK! SZERZEMÉNY!) már a videója miatt is megérdemelte, hogy beválogassam (az Élet keletkezése gyurmával elmesélve), de a zene önmagában sem rossz: garázsos hangzású psych-pop vágtázás, és külön jó, hogy alig tart tovább két percnél, ez nálam mindig nyerő szempont.
Palberta – Sick
Hú, gyerekek, tiszta őrült ez a szám, mondhatni BETEG! :)))))))))))))))) Egy hang sincs a helyén! :))))))))) Ezek a lányok nem normálisak! :))))))))))) Persze a jó értelemben! ;)))))))))))))))
OMNI – Fever Bass
Izgága, garázs poszt-punk tekerés, ilyenből soha nem elég, főleg, hogy tavalyi első lemezük (Deluxe) is nagyszerű volt a maga minimalizmusában-monotonitásában. És azt is leírom, hogy Frankie Broyles gitározik a zenekarban, aki korábban 2 évig a Deerhunterben is, persze ezt most csak azért hoztam elő, hogy rajtam kívül más is meghallgassa a dalt!
The Octopus Project – Wrong Gong
Kedvenc pszichedelikus számom eddig 2017-ben! Fülhallgatóval hallgatva (mondjuk mindent úgy hallgatok) a dobgép meg analóg szintik olyan élesen csattognak, hogy szinte kiszakítják a dobhártyámat, egy ponton meg nem is hangokat, hanem SAVAT OKÁDNAK KI MAGUKBÓL! Akárhányszor meghallgatom, utána mindig belenyúlok a fülembe, hogy minden rendben van-e, NEM MARTA-E KI A SAV vagy NEM BASZTA-E KI A BUGYBORÉKOLÁS! De közben tök fülbemászó az énekdallam, persze amikor éppen nem arra koncentrálok, hogy MEGSÜKETÜLÖK-E VAGY SEM!
Ed Dowie – Why Do You Live In France?
Nem tudom mikor találkoztam annyira fura jelenséggel, mint Ed Dowie. Ne kerteljünk: csúnya, öreg, kissé gnómszerű énekes, akit ez nem akadályoz meg abban, hogy Beta Bandet idéző, varázslatos psych-pop számot írjon például ÁGYI POLOSKÁKRÓL vagy arról, hogy ki miért él Franciaországban. Ez utóbbi dala idei, első lemezén van rajta, amit igazából nem is hallottam, csak olvastam róla, de még nem jutott el a fájlmegosztókig. Úgyhogy ezt az élő felvételt találtam, de ebből is kiderül, hogy ez meg egy Syd Barrettre hajazó csoda. És neki az is teljesen természetes, hogy a Stereolab egykori énekesnője, Laetitia Sadier mögött orgonáljon ugyanebben a templomban.