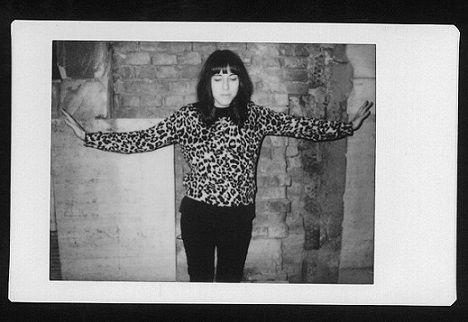 Azt hittétek, hogy elvesztem a lelkesedésemet, jól belustulok és nem folytatom a megkezdett sorozatot? HÁT NEM! Mondjuk én is meglepődtem magamon, de itt van: a januári válogatás után következzen a tíz kedvenc dalom az év második hónapjából! 
Eyes On U – Watch Your Step
Kezdem is egyből a legkedvencebb februári számommal, amit történetesen egy magyar lány, Lengyel Heni készített Eyes On U néven (ő van a nyitóképen). Már akkor megfagy a levegő, amikor elindul a fenyegető, zajos gitárriff, de amikor elkezdeni énekelni, hogy "It's dark, it's cold", én konkrétan a jéghideg leheletemet is meglátom a laptop előtt ülve! Ha egyszer videó is készülne ehhez a számhoz, én így képzelném el: az álmos kisvárost rettegésben tartja egy motoros banda (lásd még chopperes köcsögök!), de ekkor jön Heni a napszemüvegével, a fekete bőrkabátjával és az 50-es évekből itt ragadt, fekete színű Chevroletjével és egyenként vadássza le a bandatagokat, anélkül, hogy egy csepp vér is folyna a klipben. VÉRFAGYASZTÓ lenne így is, azt garantálom! A szám amúgy egyáltalán nem erről szól, de a zenéről valamiért ez ugrott be.
The Courtneys – Silver Velvet
Azért az elég egyértelmű, hogy 2016 a lányok éve volt, és szerencsére 2017-re sem vesztett semmit a lendületéből ez a tendencia. Itt van mindjárt kiváló példának a The Courtneys és a Silver Velvet, aminek a refrénje az egyik legfelszabadultabb és legfelhőtlenebb, amit eddig idén hallottam, úgyhogy biztosan be fogom majd tenni vagy egymilliószor tavasszal és nyáron, ősszel és télen pedig azért, hogy legyen, ami emlékeztessen a napsütésre.
PONY – DIY
"The band that would play on a high school roof at the end of a '90s teen movie" – ezt írja magáról ez a torontói, két lányból és két fiúból álló zenekar és a DIY nem is áll távol az óhajtott céltól: lüke rajzfilmhangon elővezetett, a fülbe banán ízű rágógumiként tapadó, ragacsos refrén, az ilyeneket az Isten is egy tinifilm vége főcímdalának teremtette. Egy kicsit azért idegesítő, mint általában a tinifilmek, de közben mégis aranyos az egész, ahogy igazából a legtöbb tinifilm is, szóval részemről rendben van, jelentkezhetnek érte a rendezők!
Novella – Does The Island Now
A Novella szereti a Stereolab zenekart. Én is szeretem a Stereolab zenekart. Meg mindenkit, aki szereti a Stereolab zenekart és egy picit is olyan zenét csinál, mint ők. Mondjuk ennek a Novella számnak majdnem olyan a basszusa, mint a Silver Apples 1968-as dalának, az Oscillationsnek. Ebből következik, hogy a Stereolab zenekar nyilvánvalóan szereti a Silver Apples zenekart. Na jó, NEM FOLYTATOM!!!
Superorganism – Something for your M.I.N.D.
Cseles. Nagyon cseles. Betenni a refrénbe egy hatásszünetet, hogy azt hidd, hogy megugrott a stream, ŐRÜLETES TRÉFA! És persze én is bedőltem neki, jól behúzott a csőbe ez a 17 éves japán lány! Legalábbis abban az e-mailben, amire mindenki hivatkozik a VILÁGHÁLÓN, az áll, hogy ő az ötletgazda, de rajta kívül még heten alkotják a "zenekart". De hogy ebből mi igaz, az igazából egyáltalán nem is érdekel, egyszerűen csak mosolyogva hallgatom ezt a hiphopos lüktetésű, elsőre ható popdalt. :)
LAKE – Work With What You Got
A LAKE zenekar az egyik kedvenc amerikai államomból, Washingtonból jött, Olympia városából, ahonnan a riot grrrl mozgalom is indult, ráadásul az előző lemezüket is szerettem, mert tele volt szellemesen hangszerelt, ügyes popdalokkal, és ezt a számot is bírom az új albumról, miért is ne bírnám, hiszen annyira kedvesen idézi meg a 70-es évek elejének PUHA hangzását, és ha jól hallom, még marimba is hallatszódik a háttérben!
Hideout – I Got Your Message
Már a januári kedvenceim között is volt egy dal, aminél egy híresebb zenészre hivatkoztam, hátha ennek hatására majd meghallgatja azt a számot is valaki. Az I Got Your Message-nél kénytelen vagyok elővenni Ariel Pink nevét, pedig nem is vagyok túl nagy rajongója, de ez a szám bőven felfért volna a legutóbbi lemezére (pom pom), mert pont ugyanaz a nagyon dallamos psych-pop. Nekem ez mondjuk jobban tetszik, de ez legyen ám az én bajom. Viszont a videóban szereplő undorító póklábakat egyszerűen nem bírom elviselni, még akkor sem, ha csak rajzolva vannak. Rosszul vagyok a pókoktól, sajnálom. :(
Girl Ray – Stupid Things
Már megint összehordanak hetet-havat a Pitchforknál: Carly Simon, Carole King, na persze! Amikor először meghallottam ezt a három londoni lányt, egyből az jutott eszembe, hogy úristen, de hiszen ez a női Gorky's Zygotic Mynci és ez nekem, mint gigantikus GZM rajongónak, hatalmas öröm! Aztán rámentem a facebook oldalukra és mi volt odaírva a kedvenc zenekaraik közé? Hát persze, hogy a Gorky's Zygotic Mynci! ENNYIT A PITCHFORKRÓL! :DDDDDDDDDDD
Bas Jan – No Sign
Serafina Steer, komolyan, ilyen nevet halandó embernek nem adnak, ilyet csak szirének vagy UFÓK kapnak. Az angol hárfás nem is evilági előadó, ezt Bas Jan nevű projektjével is bizonyítja (saját neve alatt már korábban is készített lemezeket). Az mindent elmond róla, hogy Cate Le Bon előtt is többször fellépett már, szóval igen, Kompromisszummentes Művésznővel van dolgunk: a No Signban az idegtépő, folkos hegedűnyikorgástól kezdve az izgága, posztpunkos pattogásig minden benne van, miközben a maga módján tök fülbemászó.
Mount Eerie – Ravens
Phil Elverum (aki a Mount Eerie egymaga) felesége, Geneviève Castrée tavaly hunyt el rákban, mindössze 35 évesen. Phil az ő emlékére készítette a hamarosan megjelenő A Crow Looked At Me című lemezét. Ezt a dalt és videót küldöm mindenkinek, akinek valaha is halt meg már közvetlen családtagja rákban vagy bármilyen más betegségben: hallgassa meg, és közben gondoljon egy kicsit arra, akit elvesztett. Én is ezt fogom tenni.