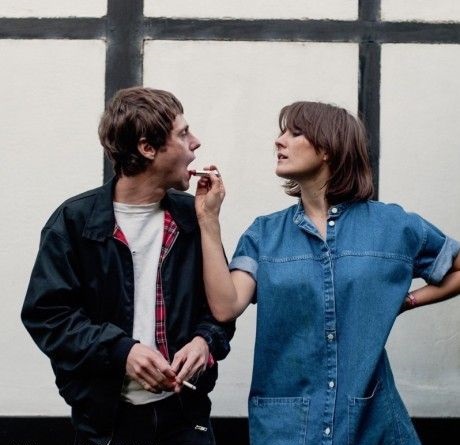 2010 óta ezek a típusú posztok eddig mindig a Recorderen jelentek meg (lásd például a tavalyi kedvenceimet, majd onnan az összeset visszamenőleg, már akit érdekel), de idén Dömötör Endre főszerkesztő távozásával, a vele való szolidaritásból, elég sokan leléptünk onnan. Viszont ezt a szép hagyományt nem akartam megszakítani, mert nagyon szerettem/szeretem ezeket a kedvenc dalos cikkeket írni. Úgyhogy itt vannak a kedvenc 2018-as dalaim, már a Music Is My Radaron. 
The Essex Green: Sloane Ranger
Nálam ez volt a Tavasz Himnusza. Április közepén jelent meg, amikor már túl voltunk a mínusz 16 fokkal induló márciuson, de még nem érkezett meg az április végén-május elején lecsapó 30 fokos nyár. A gurgulázó orgona, a 60-as évek gondtalanságát idéző dallamok a legjobban 20-25 fokban tudtak érvényesülni. De ebben a hidegben is (amikor éppen írom ezeket a sorokat), hiszen emlékeztetnek arra, hogy az áprilisnál és a májusnál egyszerűen nincs jobb időszak az Életben.
CARIÑO: Bisexual
Bár nagyon bírom a Hinds New For You című dalát és cuki volt a kolorádós fellépésük, főleg, hogy eljátszották a csodás Kevin Ayers feldolgozásukat is, végül egy másik madridi lányzenekart választottam, hiszen ez a virgonc, electro-pop beütésű dal teljesen levett a lábamról. Nem tudom, hogy miről énekelnek, hiszen spanyolul van, de a címből sejtem, pláne, hogy a videó vége felé a pszichológus egy PÉNISZ (fasz!) és egy VAGINA (pina!) rajzát is felmutatja nekik! Húha!
Lia Pamina & Dario Persi: So Far Tonight
Imádom, amikor egy előadó minden aktuális divatirányzattól függetlenül belesüpped egy korszakba, de úgy, hogy atombombával sem lehet kimozdítani onnan. A spanyol Lia Pamina időkapszulája valahol a hatvanas évek közepén kering, Franciaországban, egészen pontosan France Gall képében. Ugyanaz a már-már émelyítő báj és cukiság, ugyanaz a "porcelánbaba" alkat. Az olasz Dario Persivel közös dala is 60-as évek, de ez most kivételesen Beatles, a fekete-fehér videóval együtt meg tiszta A Hard Day's Night.
The Beths: You Wouldn't Like Me
Bár az új-zélandi gitárpop nagy műértője stereomackó, a The Beths zenekar szeretetéhez nincs szükség semmilyen szaktudásra, hiszen a hangos gitárokkal és tapssal kísért dallamok már elsőre úgy ragadnak bele a fülbe, mint az a rohadék rágó, amibe múltkor beleléptem és az istennek sem akart lejönni a cipőmről!
Parquet Courts: Freebird II
Nem tudom mikor rajongtam utoljára Nagybetűs Rockszámért, de 2018-ban ez is megtörtént! Azért szuper ez a dal, mert egyszerre van meg benne a Lou Reed és Jonathan Richman által FÉMJELZETT, flegma énekbeszéddel kísért proto-punk/indie és a tenyeres-talpas, TAHÓ, KAMIONOS ROCK, amitől amúgy engem a hideg kiráz. HÖMPÖLYÖG az orgona, HASÍT a basszus, én már csak egy tehénböfögéssel kísért, VINNYOGÓS gitárszólót hiányolok belőle, de a csúcs persze a dal végi FÉRFIAS ÓBÉGATÁS! Na jó, most viszont húzok oda vissza, ahonnan jöttem, a Kifinomult és Homoszexuális Twee Pop Rajongók közé!
Gruff Rhys: Frontier Man
Ne kerteljünk: a walesi Gruff Rhys a legnagyobb dalszerzők egyike már 1996 óta, hiszen akkor debütált fantasztikus zenekara, a Super Furry Animals, de 2005 óta szólóban is folyamatosan bizonyít. Elképesztő, hogy ennyi év után is ki tud rázni a kisujjából ilyen szuper dalokat, amiben van minden: az azonnal fülbemászó dallamoktól kezdve az elegáns vonósokon át a női kórusig. Ha élne még Lee Hazlewood és hallaná, biztosan megpödörné a bajszát, mielőtt belelovagolna a naplementébe! Én is szeretném ezt csinálni, de sajnos NINCSEN BAJSZOM ÉS LOVAM SE!!!
Laura Veirs feat. Sufjan Stevens:  Watch Fire
Mindig is nagy rajongója voltam az őszinte, ártatlan és szép folkos popzenéknek, úgyhogy csorgó nyállal csaptam le a ZSÁNER női és férfi NAGYÁGYÚJÁNAK  közös dalára. Az még hagyján, hogy egyáltalán nem kellett csalódnom, de ez a dal simán 2018 egyik legcsodálatosabbika!
Jessica Risker: I See You Among The Stars
Az is király, amikor az előbb említett műfaj két jól ismert neve csinál valami varázslatosat, de az talán egy picit még jobb, amikor egy totálisan ismeretlen előadó áll elő egy gyönyörű folkos csodával. Parancsoljatok, ez itt a tökéletes példa! Ha Vashti Bunyan hallaná, tuti azonnal rajongója lenne!
Pram: Shimmer and Disappear
Amikor megláttam ennek a dalnak a vidijét, kábé úgy meg voltam kergülve, mint egy 6 éves kisgyerek. Mondjuk nem csoda, mert a 80-as években voltam 6 éves, amikor egymás után tolták a tévében a különféle magyar és kelet-európai bábfilmeket, amikre egy az egyben hajaz a Shimmer and Disappear. És hát maga a zene is olyan, mint valami 80-as évekbeli csehszlovák tudományos-fantasztikus bábfilm soundtrackje.
DRINKS: Corner Shops
Bármit is csinál a walesi Cate Le Bon, én menthetetlen rajongóként követem mindenhová. Már 2016-os szólólemezén is feszegette saját világának határait, de Tim Presleyvel (White Fence) közös zenekarával (a fenti képen ők vannak) egy kicsit még tovább megy. Simán elhiszem, hogy valakit kurvára idegesíthet például ez a minimál, avantgarde art-punk gitárkaparászás vagy mi az isten, de én nem tudom nem imádni, mert nagyon erős hangulata van és a dallamok még napokkal később is visszhangzottak a fejemben, amikor először hallottam. De ha nekem nem hisztek, akkor higgyetek olyan rajongóknak például, mint Bradford "Deerhunter" Coxnak, Devendra Banhartnak és barátnőjének, Emily Labowe-nak, aki amellett, hogy hátborzongatóan hasonlít Jane Birkinre, egész egyszerűen a Legszebb Lány a Világon. 
Olden Yolk: Vital Sign
Ha most zeneújságírósan kellene körbeírni a zenét, nagy bajban lennék. Oké, van benne Cate Le Bon meg folk meg pszichedélia, de mégis, amikor hallgatom, még véletlenül sem ezek jutnak eszembe, de más sem, csak az, hogy a maga módján mennyire tökéletes popdal, mennyire faszán van FELÉPÍTVE, mennyire jól hullámzik különféle hangulatok és váltások között, és mennyire nem lehet megunni. Legalább ennyire ajánlom a Takes One To Know One dalukat, ami 8 percig hömpölyög előre Méltóságteljesen és minden egyes másodperce ARANY, különösen a refrén! 
Antilope Kid feat. Luca: Miért Ilyen Bonyolult
NEM ÉRDEKEL HÁNYAN FOGNAK CSALÓDNI BENNEM, de ez itt akkor is a kedvenc 2018-as magyar dalom!!! Szerintem ennél szórakoztatóbb magyar slágert évek óta nem írt senki (az elkövető Linczényi Márk!), mondjuk szerencsére nem hallgatok magyar slágereket, szóval nincs mihez viszonyítanom! Az Egynyári kaland című sorozat egyik főcímdala, bár még nem láttam belőle egy részt sem, de ezek után mindenképpen belenézek, főleg hogy olyan barátaim és ismerőseim rajonganak érte, akiknek adok a Véleményére. Az meg külön kurva vicces, hogy ez a 2 perces, szintis, dobgépes popcsoda még az idióta hülye náciknak is adhat muníciót, hiszen a refrént úgyis lehet énekelni, hogy NÉGER KÖSZÖN, majd a végén azt, hogy rakpartkövön csendben nézem, ahogy úszik SZÁZ CIGÁNY! :DDDDDD