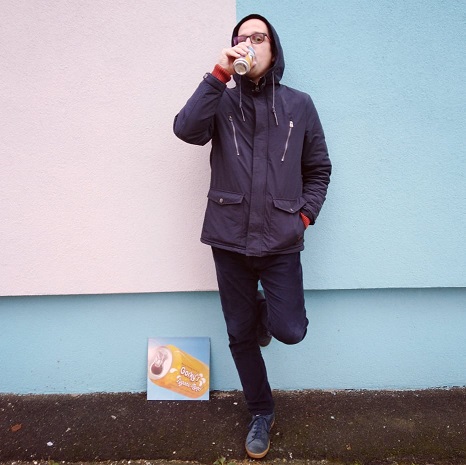 Söcsöből előbb lett ROCKSTÁR, mint belőlem - írta pár napja stereomackó, és hát az a helyzet, hogy TÉNYLEG ez a helyzet! Mondjuk kicsit furán érzem, hogy SAJÁT MAGAMRÓL posztolok (a képen természetesen én vagyok az egyik kedvenc lemezborítóm és lemezem, a Gorky's Zygotic Mynci How I Long... című albuma és egyik kedvenc üdítőm, a NARANCSOS SAN PELLEGRINO társaságában!), de hát mindenképpen szerettem volna, ha ezen a blogon is van nyoma életem első dalának, ami amúgy kábé a semmiből született.
Merthogy nincs zenekarom, nem tudok zenélni, nincs hangszerem se, és nem is nagyon gondoltam arra, hogy ilyesmikkel foglalkozzak. Viszont néha eszembe jutottak/jutnak mindenféle dallamok, dallamfoszlányok csak úgy, amikkel sokáig nem csináltam semmit, aztán egyszer csak úgy döntöttem, hogy egyet-kettőt megmutatok Simai Panninak, akit szerintem a blog olvasói biztosan ismernek, de ha mégsem, akkor ő volt egyik szervezője a Rakéta Fesztiválnak, most pedig a Ladyfestnek, és amúgy meg a blogom RAJONGÓJA! A lényeg, hogy tetszettek neki a dallamok és biztatott, hogy csináljak velük valamit, úgyhogy HALLGATTAM RÁ!
Életem első dalának FÜLBEMÁSZÓ dallama tavaly egy teljesen érdektelen novemberi estén született, az ágyban netezgettem éppen, amikor "megérkezett" a fejembe, verzével-refrénnel együtt. Már csak egy dalszerző kellett, aki segít számot csinálni belőle. Szarvas Árpira (EZ Basic, Evil Men Have No Songs, Models Can't Fuck) esett a választás, aki kb 4 perc alatt csinált belőle dalt, így mindent összevetve nagyjából 5 perc alatt megszületett a szám! A NÓTA! A SZERZEMÉNY! 
Lányéneket akartam hozzá mindenképpen, és hát adta magát Panni, hiszen vele amúgy is terveztünk már valamit, egészen pontosan a közös kedvenc 60-as évekbeli zenekarunknak, a The Free Designnak a Love You című dalát akartuk feldolgozni, amiből aztán NEM LETT SEMMI! De nem baj, mert ebből meg LETT VALAMI! Árpi gitározott, aztán szóltam még a Gerard Welsh Orchestra TITOKZATOS tagjának, aki basszusgitáron és FABÉKÁN működött közre, Mező (a Gustave Tiger alapítója, Evil Men Have No Songs, Sleeping Machine) dobolt és csörgőzött, én meg SHAKERT ráztam! Aztán egy szeptemberi vasárnap BEVONULTUNK A STÚDIÓBA (Kepler Studio), HOGY MÉREGERŐS KORONGOT RAKJUNK LE AZ ASZTALRA!!!!!!!
Ez aztán ez a dal lett (The Short Pops - Not My Baby), amibe minden bele lett téve, amiről 10 éven keresztül hadováltam a blogon, amit imádok a popzenében, szóval twee popos csilingelés, párárám vokál, 60-as évek girl group, lollipop és bubblegum dallamai MEGRENDÍTŐ EREJŰ 2 PERC 26 MÁSODPERCBEN! A cuki zenét ellensúlyozó, filmnoiros, véres szöveget (ami a youtube linken olvasható) az egy koncertet megért, egykori Mona Lisa Mosolya zenekar basszerosa, Bagladi Gábor írta, a lollipop és horror hangulatot a borítón pedig a verkstadenes és Wannabe Recordos Rumi Zsófi jelenítette meg. Köszi mindenkinek és aki még nem hallotta, az itt most meghallgathatja! Aztán jövőre videót is csinálunk hozzá, és szeretnék majd egy újabb dalt is összehozni 2019-ben! Amúgy bandcampről le is lehet tölteni, ha valaki akarja.